Home of the Brave -Military Veterans Bikes
Home of the Brave -Military Veterans Bikes
Where our military veterans show off their Victory & Indian motorcycles.
If you want your bike featured on our website send your pictures to sales@buywitchdoctors.com
Make sure to include your name, the branch of the military you were/are in and years served. Also give us your name, year, make & model of your bike. Don't forget to include any custom parts or customizations you have done! If you have any parts bought through Witchdoctors that's a plus!
Pictures must be:
1920 x 1080 jpg
No copy write logos
No nudity

More than just a motorcycle
Witchdoctors is a proud sponsor of  Wheels 4 Warriors USA and helps get vets back on their feet. Wheels 4 Warriors USA is one of a kind. We are the only program in the country that integrates Veterans back into a group of their peers, establishes a mentor, AND gives them a motorcycle to help them get some "wind therapy"
If you would like to donate to this great cause please DONATE here.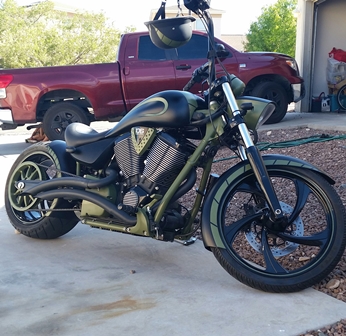 Billy Triplett Jr, SPC/USA Medic, HHC 1-37 AR 2/1AD is active duty Army and has a really cool Victory Vegas Jackpot with a lot of Witchdoctors custom parts on it. Thank you for your service!
---
Jim Stanton, 2010 Cross Roads - Check out this bike Witchdoctors outfitted with a custom front wheel and fender, clutch arm cover, derby cover, shift rod, open belt cover, exhaust and Witchdoctors Gunner series brake pedal.
---
Rovert Jr Lehmkuhl, U.S. Navy. 2011 Cross Roads with Pride! U.S. Navy pride flag with an Eagle cover, what an awesome bike!
---
Darrell Foraker "Desert Eagle" 2008 Kingpin
---
Nick Harrison, US Navy 2001-2008 CVN 72 OIF-OEF-OSW-Indonesian Tsunami Relief, FNMOD Asheville NC. 2011 Victory Vision - A few parts from Witchdoctors include, Stator, Regulator, Skid Plate, and various other parts.
---
Chris Mauro Tampa, FL. Retired USAF, TSgt (E6) SR-71 Crew Chief. 2016 Victory Vegas 8-Ball with Dyno-Jet Power Commander from Witchdoctors.
---
Chris Aquilina, 2008 Victory Hammer - U.S.Navy from 1962-1968, 2nd class Petty Officer. ABH-2. USS Independence CVA-62...N.A.S. Alameda...VS-24, Norfolk, VA...USS Boxer LPH-4
---
Crise 
Larn
, 2016 Cross Country - U.S. Navy Veteran
---